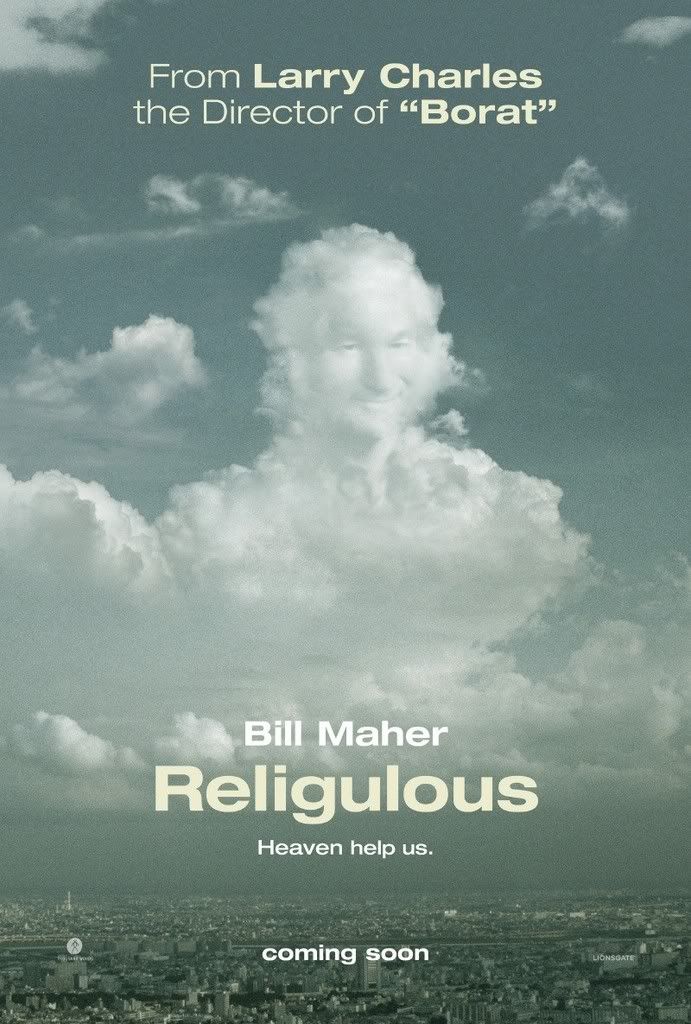 Since Bill Maher's
Religulous
opens in wide this weekend and Big Mike has already seen it weeks ago, he has held off on writing a review while referring to himself in the third person. And let me tell you, this is a movie that every person should see, regardless of race, color or creed.



Bill Maher of
Real Time
and
Politically Incorrect
fame explores the concept of religion in almost every facet that he is granted too. Not only does he interview people from all faiths, but makes visits to the Vatican, Salt Lake City, Jerusalem and even takes his cameras inside the Kabba in Mecca. There are also trips to Amsterdam, Bible Land in Florida and a trailer church in the Carolinas. Being raised half Jewish, half Catholic to become a devout atheist, Bill questions people, not their faith. He goes out of his way to create an open dialouge in order to find out why normal, intelligent people behave in such an erratic fashion because of their religion. Bill likes to point out the wars, violence, bigotry and prejudice that is carried out by religious folk and believes that America's deep sense of organized religion is partially to blame for most of our problem's today, not least of which is a two term President who believed that God wanted him to run for office.


But at every turn, be it Christian, Muslim or Jewish, Bill is rebuffed and called ignorant, a non-believer and worse. He is warned that he will burn in hell, be left outside the gates of heaven for eternity or be subject to physical violence in this plane of existence. Bill remains underterred in his beliefs that the world would be a lot better of with LESS religion. While films like
Borat
or movies from Michael Moore like to shock their subjects, Bill prefers a more subdued approach and as a comic first, is never above making the easy joke. And, that is what's fascinating about this movie. Instead of making people squirm or laugh at easy gay stereotypes or shaking heads at CEOs caught up in lies and fiscal crises, Maher dares to challenge people on what they hold most sacred in their lives. When the movies begin its inevitable conclusion towards the end, literally and figuratively, Bill holds off on ending with a big laugh delivering a knock out punch meant to keep audiences talking after they leave the theatre. And that is one of the best things that a film can aspire to do.