I have written before about my love of the
Terminator
franchise, even writing about the series,
Sarah Connor Chronicles.
I have looked forward to
Salvation
for quite some time and despite the negative vibes and BECAUSE of Bale's on-set outbursts, I could not wait to catch it this summer. Let me just say for the record, that having worked on a number of professional studio productions, all of them with LESS money and hype behind it than this film, IF what Bale said was true and it was NOT the first time such an incident occurred, then Bale was completely justified in his complaint. Did he have to apologize? Of course he did. Should he have? Nah.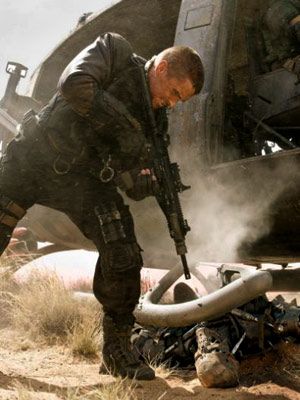 But, that intensity is on display in the film. I love Bale and find myself afraid of him falling into the same trap as Daniel Day-Lewis, where if every performance is AMAZING, then what is the point? Bale can be Batman, John Connor, Melvin Purvis, Patrick Bateman, anything. The film does something different by having Connor not be the leader of the the Resistance and showing him instead as a prophet leading a Resistance
within
the Resistance. Instead of simply being the savior of mankind, the movie shows his journey and struggle to fulfill his destiny. I liked that while he knew of the future, there were still moments of very human uncertainty that made him more relatable than an all knowing deity. Connor knows that he must save his father, even though he is not sure how, nor does he have the means to send him back in time to actually become his father.


The other side of the movie is Sam Worthington who practically takes it away from Bale as Marcus Wright, a new Terminator who doesn't know that he is a machine. His story parallels Connor's with his conflict between who he is and what he has to do. As great as he was in the film, it was really brought home for me with Anton Yelchin as Kyle Reese. He brings to the film what Edward Furlong brought to
Judgment Day
, a character you can identify with. His Kyle Reese is neither savior nor machine, but a kid trying to survive in a post-apocalyptic Los Angeles. Isn't that all of our dreams come true? He's outsmarting Terminators, rigging booby traps and believes, like we do, in John Connor and the Resistance. And it really payed off for me when Connor and Reese finally meet and fight side by side. To see to two of them marvel at the other without ever really knowing the full extent of how much the other will matter in their own life was admirable played by both actors.



I'll take all the heat on this one and say that I really liked this movie. It was not without it's flaws as there were certainly parts of the film that felt, a little, common. But, I was with the story, even if the last ten minutes were predictable and I loved all the callbacks to the first two films, both verbal and visual. I might even say that
Salvation
is the second best Terminator movie in the franchise. I'm looking forward to seeing more movies like this, yes, even with McG behind the helm.