In writing a review of
Up In The Air
, one would be wise to try to avoid all the airplane-related puns and cliches, such as "Clooney soars" or "Director Jason Reitman pilots his film with nary a jolt of turbulence". The film is much more serious, both in content and as an Oscar contender to merit such trifling comments. Quite simply, it is the best movie that I've seen all year and should probably garner Clooney his second Oscar, if nod a certain nomination.
Comedy, drama, satire and social commentary abound in the story of Ryan Bingham, a corporate suit for hire whose job is to fire people with technical precision for companies who lack the strength to do it themselves. Not only is he great at his job, but embraces his lifestyle that has him traveling 350,000 miles a year and spending 270 days out of the year 'on the road'. But, when a young college grad, Natalie Keener (Anna Kendrick), sells his boss (a sublime Jason Bateman) on a new method of execution that requires only a T1 line, Ryan finds himself looking at a 'future of options' and not liking any of them anymore than the people he fires.
There is much more to the film, such as the devastating effect the economic recession is having on people, told through actual interviews filmed by Reitman in Detroit and St. Louis. For while the film travels to San Francisco and Miami, most of the action occurs in and above cities in the Midwest such as Wichita, Dubuque and Kansas City. As a matter of fact, when Ryan takes Natalie on the road to show her the ropes and they travel to Detroit, the entire auditorium I was in let out a collective groan even before Ryan could state the obvious, that the city has been amongst the hardest hit by the recession. The end products of their booming business are varied reactions from outrage, to depression and even optimism by some who truly take it as a chance for a new opportunity.
But, the real story is the way Ryan begins to place more value on people than on his miles. He meets a kindred spirit in Alex (Vera Farmiga), a business woman with whom he immediately connects, yet he struggles to reconcile his lifestyle choice and his obvious feelings for her. At the same time, he becomes increasingly aware of his sisters that he has left behind in Wisconsin, while trying to be there for them as one plans a wedding and the other is dealing with marital problems. Natalie provides a perfect mirror for him to see a younger version of both himself and Alex and examine what everything means to him and what he really needs in his backpack.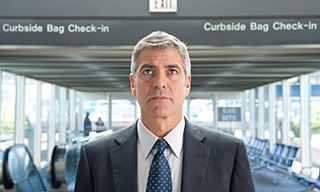 The performances are wonderful all around from the three leads to J.K. Simmons and Danny McBride. But, Clooney carries the picture, particularly in a fantastic scene between the two actresses in which he has one line and merely reacts to the rest of the conversation. Here, we see a character who starts the picture as confident and secure as Danny Ocean and by the end, becomes more vulnerable and changed than Michael Clayton. Of course, he could not do it all alone and Anna Kendrick is wonderful, feeling the pain of firing people than Ryan has long since blocked out and while she shines at her job, fights the inevitability of becoming like him or Alex.
A good film is one that you can watch and in it see yourself and your world.
Up In The Air
can do all of that for audiences, making me think about my own life, reinforcing decisions I've made regarding my future and hardening my resolve. While it left me with a similar feeling I had after watching
Revolutionary Road
, there was a greater note of hope and optimism at the end. Perhaps, like Ryan believes, every ending is a new beginning. I certainly hope so for my own sake. And for your own sake, go see Up In The Air as soon as it comes to your city. You will see a film guaranteed to win at least one Oscar this year, if not nominated for at least five.