A regular feature on The LAMB is LAMB in the Director's Chair and this time around, it is perennial Oscar contender Clint Eastwood. But, what would I write about, I asked myself. Should I finally review
Invictus
, one of my top ten films of the year? Would I write about his acting swan song
Gran Torino
? His spaghetti westerns, cop dramas or either of his movies with a monkey? In the end, I'm from the school of 'write what you know' so I chose the Eastwood film I've seen more than any other, the movie that introduced me to Clint Eastwood as a kid and the film around which my Eastwood impression is largely based. That film is Heartbreak Ridge.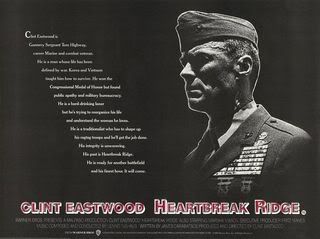 As Gunnery Sergeant Tom Highway, Eastwood portrays basically the Marine Corps version of himself; ornery, tough and bitingly sarcastic. Charged with turning a unmotivated and poorly trained platoon of Recon Marines into "life takers and heart breakers," there's also a B-plot about his personal life and his impending mandatory retirement, but really the movie is just an excuse to get him to insult his Marines and eventually take them into Grenada. Though the movie is riddled with inaccuracies, it is beloved by Marines, young and old, those who recognize themselves and their friend in the characters as well as those who become nostalgic for 'the old Corps.'
Firstly, the most glaring and obvious error to any Marine is the location of the film. Highway's unit is part of Eighth Marines, Second Marine Division. I was assigned to Third Battlion Eighth Marines, Second Marine Division, stationed in North Carolina. Heartbreak Ridge is very clearly filmed on location in location at Camp Pendleton, California (where I was in fact born) and even had the support of the Marine Corps. They later withdrew support upon seeing the film because of the language. The dialogue rings true for Marines, as almost everyone has known either an old timer like Eastwood's Highway (I don't know how many times I heard the 'few good men..you ain't it' joke when I was in), inept Lieutenant Ring or frustratingly idiotic Major Power. The film has even been cited as one of the great recruiting films for the Marine Corps. Recruits took comfort in the fact that if they had someone like Gunny Highway leading them into combat, they would make it home to a warm reception. As for myself, I always considered Tom Berenger's appearance in Born on the Fourth of July as my inspiration for enlisting but that's another blog. Historically, Heartbreak Ridge did actually exist in Korea, which was a major victory for the Army, explained in a toss away line from Sergeant Major Choozoo the he and Highway joined the Corps later. And while the Marines did invade Grenada, it was an Army Ranger unit that took the University Medical School.
But, the movie is directed by Eastwood and shines on his star power alone. You actually believe him when he tells everyone that he's "drunk more beer, pissed more blood, banged more quiff and busted more ass than all of you numbnuts put together." His colorful language, trademark voice and cadence and subdued acting style made Heartbreak Ridge one of his signature roles in a long and distinguished career. And if you ever meet him in real life, and I have, find the courage that I couldn't and call him a "big leatherneck jarhead mother fucker."