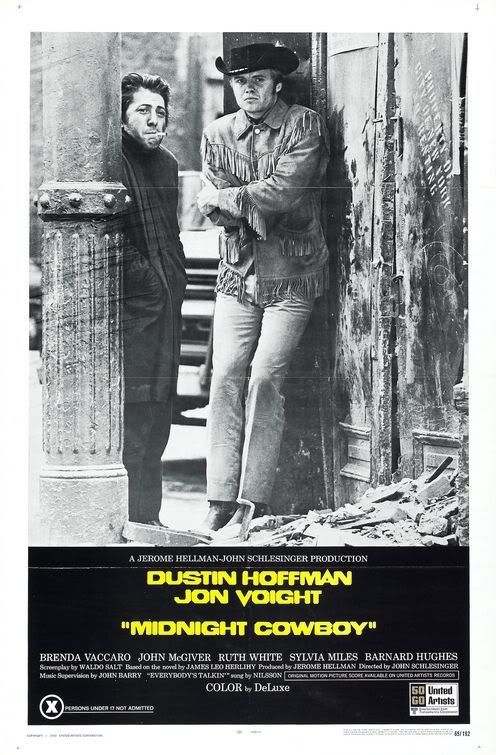 This post is part of the Film Ignorance Feature at Movies et al
with a grade of 'Yep, It's A Classic.'
Watching Midnight Cowboy for the first time and taking in the historical context of the film, while people might inevitably compare it to Brokeback Mountain, I was reminded of Raging Bull. Raging Bull was made at the end of the Seventies and became regarded as one of the greatest movies of the Eighties. Likewise, Midnight Cowboy, released during the summer of love in 1969 became an indication of the direction films would take in the Seventies.
The 'gay cowboy movie' of my parent's generation, Midnight Cowboy was important in many different ways, the least of which was its subject matter. Jon Voight stars as Joe Buck, a naïve young Texan who goes to New York City with dreams of becoming a male hustler. It's not long before he realizes that it won't be beautiful women paying him for his body, but the Jackies on Forty Second Street. Then he meets Ratso Rizzo, played by Dustin Hoffman who after scamming Joe out of money, tries to take him under his wing and manage him in the ways of the New York hustler. That's the movie in a nutshell, with the pair becoming closer as they get more impoverished and desperate for cash.
Both Voight and Hoffman were nominated for Best Actor for their performances. Voight plays the part of the dumb hick to perfection and you can get a sense of the hungry, young actor inside, yearning to please and be accepted. This movie would catapult him from a struggling New York theatre actor to a star, like The Graduate had done for his co-star the year before. Hoffman's role has become almost the stereotype of a New Yorker by now, but it was miles removed from Benjamin Braddock and cemented his status as a serious actor in only two years in Hollywood.
Directed by John Schlesinger, whose claim to fame had been the Julie Christie movie Darling, he made the film more personal than people knew. He was in the closet at the time and was constantly under the stress of keeping his private life private. I was struck by how he shows us clips, montages and flashes of Joe's life in Texas and a violent event that has changed him, but we're never told explicitly what happens. Schlesinger shows us without telling us. In a way, I could understand his motivation and he desire to share secrets with us, but holding back from giving away too much. It was this style of filmmaking that really made it remarkable to me.
The movie was released with an X rating for the sexual content and brief nudity. Eventually, it was changed to R in 1971 without having to change a frame. However, it would win the Oscar for Best Picture carrying the X rating, the only film with that distinction. It helped the fight for freedom of expression that continues to this day and also won Oscars for Best Director and Screenplay (Adapted).
I couldn't help but notice how cyclical the movie was. In the end, Joe is basically back where he started from, geographic location notwithstanding. He is alone in a new city, but his experiences have changed him and his outlook on life. Joe didn't change to adapt to the city, but tried to remain true to himself and while some may think he failed, I believe he succeeded by surviving and moving onto the next chapter. It almost seemed to me like the film predicted how the Seventies would go for Hollywood. After the big budget, star driven films died off to be replaced by the films of people like Schlesinger, Voight and Hoffman; the studios would eventually regain control to put out large budget, star driven movies of the Eighties. Sadly, thirty years later, Schlesinger would be reduced to directing romantic comedies for Madonna and as for Voight and Hoffman… I only have two things for you. Karate Dog and Mr. Magorium. Like a friend of mine wrote earlier this week, both of them should be ashamed of themselves. Between the two of them, they were in Midnight Cowboy, Catch-22, Straw Dogs, Deliverance, Marathon Man, Coming Home and Papillion. In the past FOUR years, they have made TWO National Treasures, Lemony Snicket, Bratz and Meet the Fockers.
For shame.