I have known my brother for a quarter of a century now. And during that time, there is only one film that we both immediately identify each other with. That movie is La Bamba.
As kids, there were very few movies that featured Mexican-Americans (who didn't speak Spanish) in the lead roles. La Bamba was not only an important movie culturally, but it tells the story of sibling rivalry between two brothers. Growing up in a small community in California, Richie and Bob mirrored the two of us almost exactly or at least, our self-images of ourselves.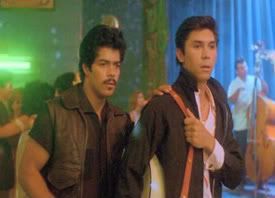 Richie was the younger brother, the shining golden boy. No matter what he did, he excelled at it and everyone wrapped him in love and support. But, Bob didn't feel that same love. Bob's story was forever intertwined with Richie's, but could have been a movie by itself. Bob spent time in jail, had problems with alcohol and drugs and always felt slighted by his family. The simple fact was that they were two different people for being brothers. Richie was unsure about his rock-n-roll dreams and needed that constant assurance to pursue his music. Bob was far more independent with a rebellious streak. When he found his own marginal talent, it was met with indifference and outright rejection from his family. He pushed people away who tried to get close to him and his distrust kept him alone and away from his family. However, Bob was always begrudgingly proud of his younger brother and its shown in the film several times, from Bob outside the garage on his motorcycle to watching American Bandstand in the bar. The scene where Bob disrupts the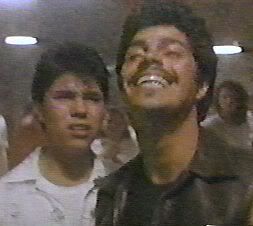 concert at the hall epitomizes their relationship. Bob shows up drunk, but in good spirits to enjoy the show. A small conflict sets him off and his violent tendencies take over. Ruining the show and starting a fight that destroys the hall, Bob internalizes everything to the point that he fights back against his mother and Richie, seeking some sympathy for himself. In this way, it highlights both the positive and negative stereotypes of Mexican Americans. There is the strong sense of family first that informs the relationship between brother and brother and mother and son. I know that my brother's favorite part is when Richie is asked what's more important to him, his friends or his music and answers, "my family."
Directed by Taylor Hackford, the movie features great performances from Lou Diamond Phillips, Elizabeth Pena, Rosana DeSoto and Joe Pantoliano (any movie with Joey Pants is awesome). For me, the movie will always be Esai Morales. He gives a powerhouse portrayal that should have garnered an Oscar nod. People don't know that the real Bob Morales eventually cleaned up and works as a drug counselor. I got the chance to work with Esai in television and he was a really nice guy. I told him how much my brother and I loved La Bamba as kids and he was appreciative of the fact. What I didn't tell him was that I was grateful for the movie giving the two of us a chance to forget about our childish fights and become close to each other as brothers before that opportunity was taken from us.

Happy Birthday Matt.