Living in California has some privileges, especially for a movie buff. There are tons of
films festivals to attend
, you always get to see limited releases first, you gotta an action star for a governor and there are all sorts of special screening you can find. One such event is the weekly outdoor sceeening at the Hollywood Forever Screening.
People attend with chairs and blankets and food and drink(wine and crackers, it IS Hollywood). Being a child of the 80's, attending the screenings feels likes the closest I would ever come to commune living. Every person there is united by a common love and a respect for cinema. It's the difference between a bunch of teenagers forced to go to a pep rally and people grabbing their friends and dragging a cooler of beer across a lawn on a Saturday night to watch
The Graduate
. Here, nobody will steal from you or pick a fight with you. Rather, they will share their food with you and kindly move their blanket to allow you more room. It is almost a family environment, which is why it was perfect for this Saturday's 30th anniversary screening of The Muppet Movie.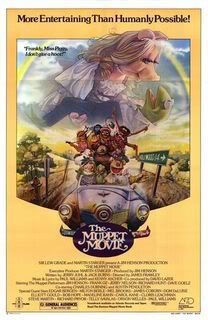 I hadn't seen the movie since I was a kid, but from the opening strains of "The Rainbow Connection", I felt like a kid again. And when the audience began to sing along, I smiled and sang a long too. I didn't stop smiling until the movie was over.
I felt like so many of the jokes were making me laugh for the first time, but of course, I was just understanding them for the first time. As a child, you love the Muppets and will watch them do anything, but as an adult, I loved all the lame puns and Vaudeville-type humor. I cheered for all the guest appearances of the actors who starred in the movies I watched over and over, like Richard Pryor, Mel Brooks, Madeline Kahn, James Coburn and Steve Martin. Ah, Steve Martin.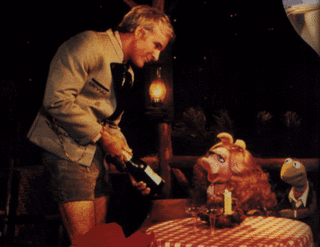 I realized too, talking about the movie on the way over and before it started, that what was so great about those first few Muppet movies, were that they were actually movies. Those boring Muppet movies when they went to space or became pirates were not what the Muppets were about. Any plain puppets could perform in those pictures, but the Muppets were special. They were treated like real people.
Muppets Take Manhattan
could be a movie with human actors and the story would still work. The Muppets weren't a gimmick or a fad, they were the real thing and everybody in America just understood it. And that was what spoke to us as children. If a green frog can be treated like a grown up, then we have nothing to fear from the grown up world. If an unfunny bear, an obnoxious pig and a weirdo can make their dreams come true, then we can too. That was Jim Henson's message then and it is his legacy to us today.
Visit
Cinespia
to view their schedule of upcoming screenings.