It's rare for a film festival to program a television series into its lineup, but not when that show is the incomparable Spaced. The genesis, the alpha, Eden and Spaced are where all things spring from. Anyone who knows me knows that I saw Hot Fuzz no fewer than ten times in its theatrical run and am a devoted fan of Edgar Wright and everything he does. I'm not going to write a review of the series for those who haven't seen it, because I want to wait for the DVD release on July 22. Instead, I want to tell you about Tuesday at the Los Angeles Film Festival and my evening with Edgar Wright.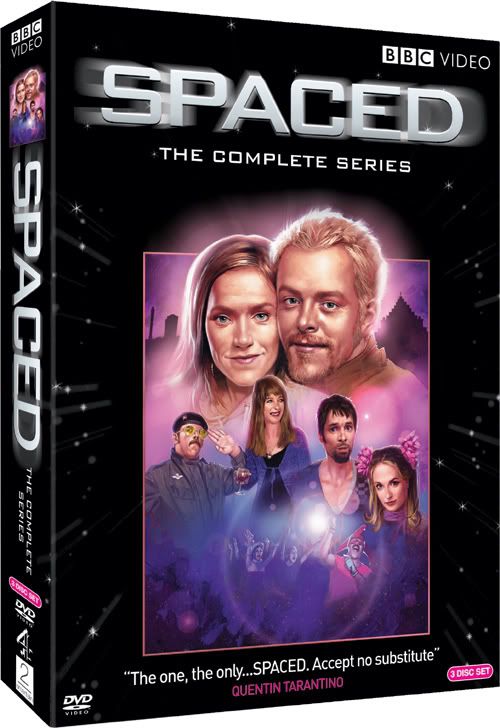 Spaced is the British sitcom about friends Tim and Daisy pretending to be a professional couple in order to rent a flat in London. Stars Simon Pegg and Jessica Hynes (Stevenson) wrote every episode and Edgar Wright directed every episode, 14 in all over a two year run. Pegg and Wright went on to make both Shaun of the Dead and Hot Fuzz and the style of those films is clearly birthed in Spaced. So, when the Spaced Invasion USA was announced, my friend Graham and I secured our tickets immediately. Tuesday night, we drove out to Westwood and the Regent, ready for some Spaced. Also in attendance was Bill of Hader of SuperBad and SNL and I tried giving up my seat to Oscar winner Diablo Cody who of course, had one saved for her. Matt Stone of South Park fame was the moderator for the evening and told a funny story about Edgar before introducing the director. Edgar announced he could not decide between the two scheduled episodes so he chose three instead and would we object to seeing one more? The episodes he screened were 'Art', 'Epiphanies' and 'Gone'. After sitting through about sixty minutes of comedic brilliance, Matt and Edgar took the stage again to talk about the series and answer a few questions.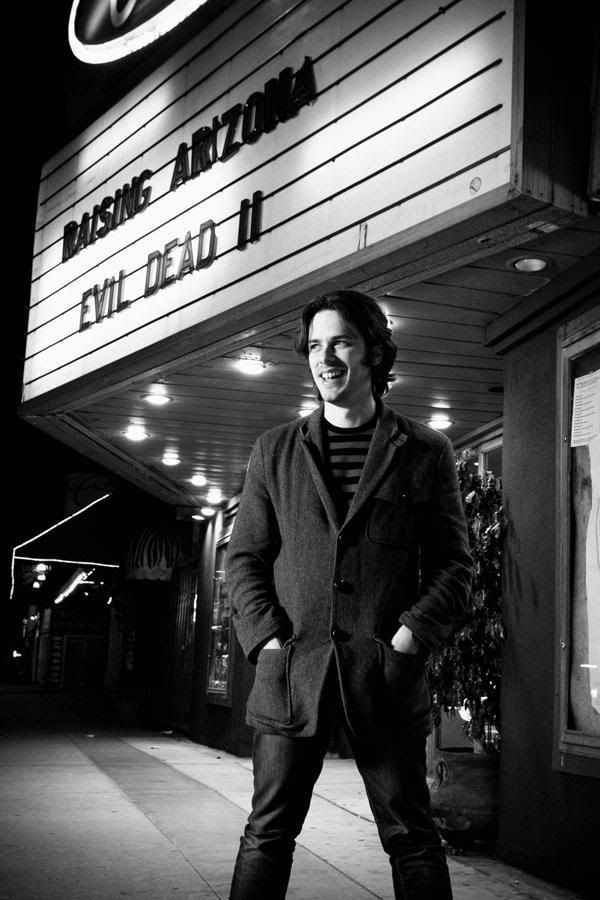 Edgar talked about directing at 21, working for three years on Spaced as both editor and director. He answered questions about the music, did not answer questions about Ant-Man, except to say that it was written and Matt Stone was just as funny and entertaining in his questions and comments on the series. I stood up to ask a question, inquiring of Edgar if there was ever a bit or gag they wanted to do, but could not get cleared or could not fit into a story. He couldn't think of any off-hand, but he did tell an amusing story about having to re-record certain music and actually performing from memory the Ewok song from Return of the Jedi. After everything was done, I caught Edgar as he was walking up the aisle past me and asked if I could get an autograph. He gladly obliged, complimented me on my t-shirt and even posed to take a picture with me. I don't know if it's because he's British, but damn, he's a nice guy.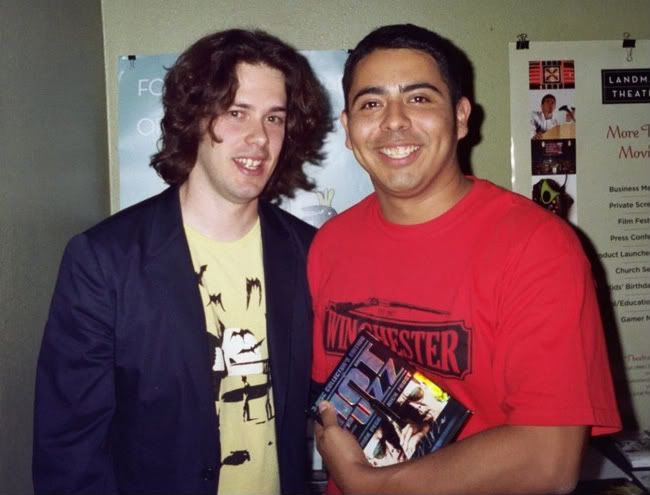 Note the autographed copy of Hot Fuzz.

Riding the high of the moment, we walked out of the theatre where everyone was milling around outside. I introduced myself to Bill Hader who shook my hand and took a picture. Then, the guy talked to me, actually TALKED to me for about five minutes. He recognized my shirt and said he asked Edgar the same question on the DVD commentary. He told about what episodes he did, meeting Edgar thru Will Arnett and Amy Poehler, watching SuperBad for the first time with him and even telling me with what famed female filmmaker Matt Stone was f-, um, having relations with. He then turned and introduced me to Joe Cornish. writer on Ant-Man, and the series Big Train and Adam and Joe. I asked him about Ant-Man, which he and Edgar collaborated on and if it would be part of the big Marvel Universe and possibly integrated into the Avengers movie. He said he didn't know and that he didn't even think that Marvel knew right now, but the movie was written and they were looking forward to starting work on it. I thanked him for his time and we walked off to FatBurger, convinced of the good of Hollywood stars.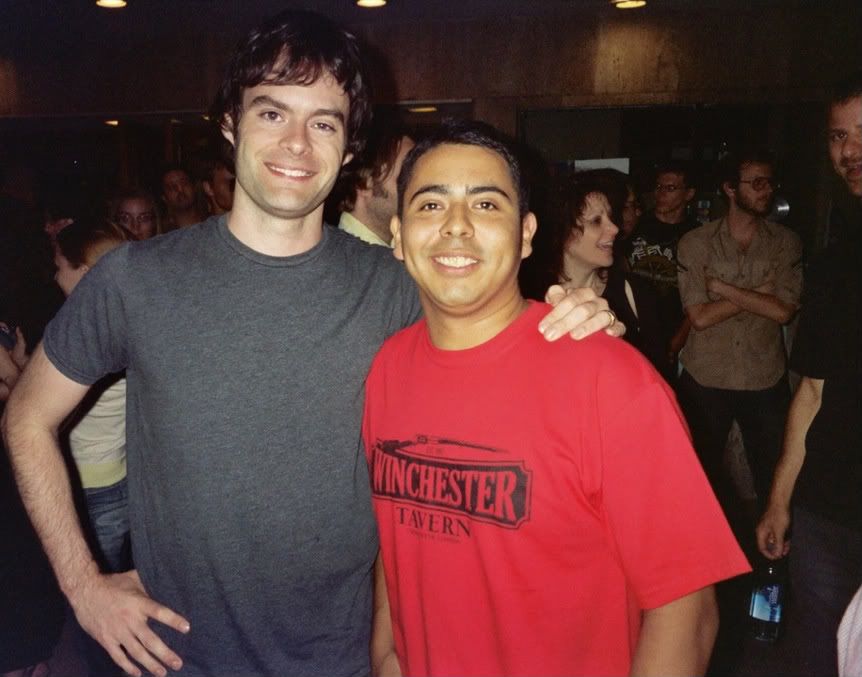 Matt Stone on the right.

It was another awesome evening for me and for film. Thanks to Edgar, Bill, Joe and my friend Graham for rolling along with me for all of it.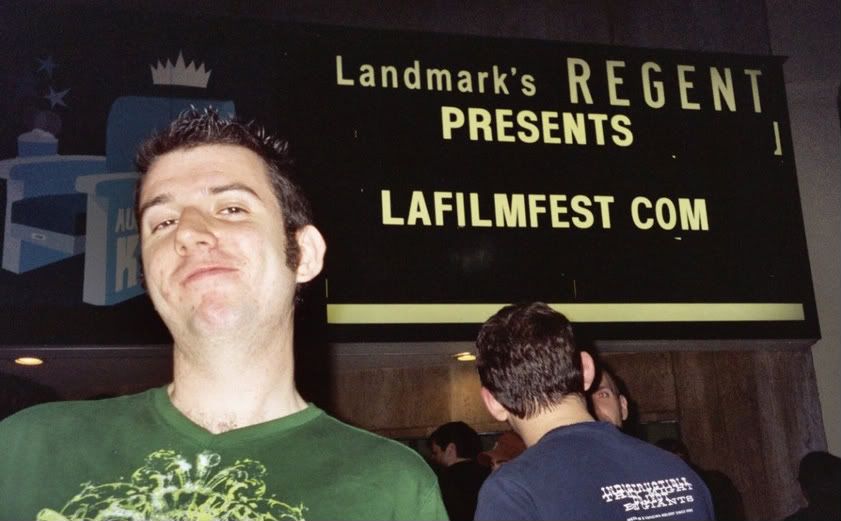 That's Graham!

Spaced is available on DVD on July 22.