I used to fancy myself a ball player and a stand up comedian. To that extent, in my lifetime I studied the greatest men who ever did both. I saw Michael Jordan play with the Chicago Bulls in 1993 and George Carlin perform live in 2004. I think about it now with a heavy heart and a small smile.
George Carlin was probably the greatest stand up comedian ever. His only competition Richard Pryor has left us long ago and he continued to march on, bringing his unique brand of comedy to the masses. His wit and intellect have never been equaled and although I am of a generation who considers Dane Cook its representation of 'college comedy', Carlin was the original class clown. Born an Irish Catholic in New York, he lived the American Dream he so often enjoyed disparaging in his act. In the Sixties, he changed the course of comedy forever, by completing changing his clean cut act, growing a beard and challenging the authorities. Carlin took on the media, the government, Holy Mother Church and never apologized for anything. He hosted the first ever episode of Saturday Night Live and of course, popularized the Seven Words You Can Never Say on Television (shitpissfuckcuntcocksuckermotherfuckertits). He was once arrested for that bit and like Lenny Bruce, used his comedy to change social attitudes towards languages and laws against obscenity. In his later year, he may have taken some of them venom out of his bite, but never slowed down his pace. He toured constantly, got his own episode on Inside the Actor's Studio, performed live as recently as last weekend in Vegas and had 14 (!) HBO Comedy Hour specials.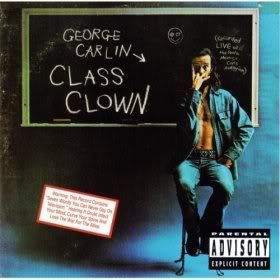 My favorite George Carlin album.
He never carried a feature film because that was not what he wanted to do. He appeared in smaller supporting roles in films like Car Wash and Prince of Tides. Perhaps most people will remember him as Rufus in Bill and Ted's Excellent Adventure. He did three films with Kevin Smith that will be how I choose to remember him because of how he portrayed them. In Dogma, Kevin wrote the role of Cardinal Glick for Carlin. Who else to play a Catholic leader determined to 'revamp' the Church for the 21st century? He then played a hitchhiker in Jay and Silent Bob Strike Back to bring some comic credibility to a few gay jokes. But, I truly treasure him in the role of Ben Affleck's father, Bart Trinke, in the over-hated Jersey Girl. He played a grandfather figure filled with tough love and sarcasm that was probably as close to his true nature as we might have ever been privileged to see.
George Carlin taught me how to deal with life as a lapse Catholic and a disgruntled military veteran. He taught me you can say whatever you want and get away with it, so long as you're funny. He taught me that freedom of religion also means freedom from religion. He taught me the beauty of our English language. He taught me if you love someone and they leave you and come back, set them on fire. He taught me to worship the sun and pray to Joe Pesci. He taught me that you can be sober and hilarious.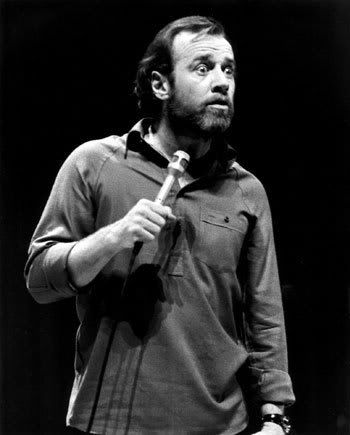 George Carlin was 71.