This blog was chosen as a LAMB Chop for the week of April 18-24.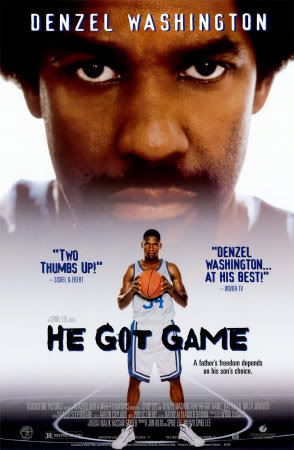 While promoting the underrated 25th Hour, Edward Norton was quoted as saying he "…would play a walk on for Spike Lee." And when asked which of Spike's films his favorite was, his answer was He Got Game.
He Got Game was released in 1998 before Summer of Sam and after Get on the Bus, a period in between Malcolm X and Inside Man when Spike consistently directed quality movies that were largely ignored by audiences. He Got Game is the only film in that period to star Denzel Washington, but the real revelation in the film was Ray Allen as Jesus Shuttlesworth.
In his review, Roger Ebert called him "a rarity. An athlete who can act." Ray Allen shines on the screen in many of the same ways he has for eleven seasons in the NBA with the Milwaukee Bucks, Seattle Sonics and now, the Boston Celtics. Under Lee's direction, Allen uses pregnant pauses, minimalist dialogue and long looks in his first acting role. He is quiet and reserved. You can see the intensity in his eyes, yet he lets his game play and athletic prowess do the talking for him. And then he smiles. A big, wide smile that exudes a genuine love of the sport and explains away why the real Ray Allen spent over ten years toiling away for sub-par squads, playing his heart out and earning the hearts and respect of fans along the way.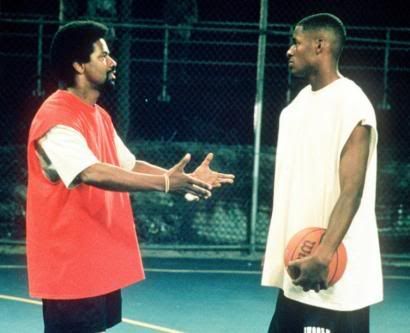 Jesus Shuttlesworth plays ball the same way. In the movie, an ESPN piece about Jesus that features NBA players and NCAA coaches praising his virtues, could actually have been about Ray Allen. Future coach George Karl describes him as a player who "makes other players around him better." Jesus is big and strong, but he is quick and smart. He's the complete player, the total package, a prime time player, a diaper dandy. And, it is because the actor and character mirror each other so closely that Jesus Shuttlesworth has become iconic in the world of basketball. Never before in a sports movie have the two been equals. Did you know that the guy who played Jimmy Chitwood never played high school basketball? Jesus transcends the movie to become something of an idol that Ray Allen had to live up to. And he did as an eight-time All-Star and member of the gold medal winning Olympic team of 2000. Also in the same clip, the coaches talk about the character of the character of Jesus and the hardships he has endured, making him a better person and admirable young man they are falling over themselves to offer a full athletic scholarship to. Likewise, in his professional career, Allen has been awarded the NBA Sportsmanship award, been a spokesman for both the Jr. NBA program and the Thurgood Marshall scholarship fund, involved in numerous charities through his own Ray of Hope foundation and is held in general regard as an all around "decent human being".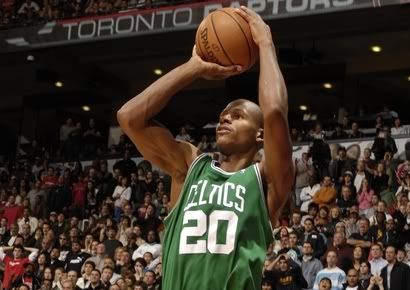 Sadly, Ray Allen has all but disappeared from the Celtic's last playoff series against Cleveland averaging less than 10 points a game and shooting 4-for-24 from behind the 3 point line. Boston is expecting a huge turnaround from him against Detroit or the team might not make it to the NBA Finals. But, my question is, where is Jesus Shuttlesworth? Not that I'm advocating a sequel, but where are the characters like Jesus? The characters rooted in reality in both film and sports. Not since Hoop Dreams have there been such an impressive story of young men using basketball to escape their inner city plight. For every movie such as Hoosiers or Coach Carter where basketball is treated like life and talked about as a metaphor or a tool, Jesus Shuttlesworth actually uses the game as just that. We never see Jesus play a game, only pick ups and scrimmage and the movie doesn't even end with the one-on-one game between him and his father. For Jesus, basketball is not life, life is his life. He cares about his sister, his future and his past. He talks about how his mother instilled in him an education-first mentality and he stays true to her memory. He briefly entertains the idea of going pro, and then quickly dismisses it. And throughout his college trips and recruiting speeches, there is never any talk about championship or tournaments or banners, which would suggest that although he visits fictional schools, they are stronger in academics than athletics. For Jesus, "the most important decision of his life" is not about his basketball future but about his future in the world.
When I was younger, athletes and actors were role models and people worthy of admiration and emulation. Unfortunately, more and more of those people these days are becoming caricatures of themselves and their professions. When life imitates art and art imitates life, it's increasingly difficult to find characters on the screen like Jesus Shuttlesworth, when there are fewer athletes and actors to portray them like Ray Allen.
Save us, Jesus. Save us.
He Got Game is available on DVD from Walt Disney video.
Update - Ray Allen scored nine points as Boston won Game 1 of the Eastern Conference Finals and scored twenty five points in a Game 2 loss.